Easy in-house maintainence by end users.
XSite™ Curved Surface Signage is a complete interiors signage system that meets all your requirements for a stylish, contemporary alternative for workstations, offices, cubicles, walls and more. Our curved surface signs feature a variety of options, including replaceable graphic inserts protected by a lens that requires a suction cup for removal.
Sign Types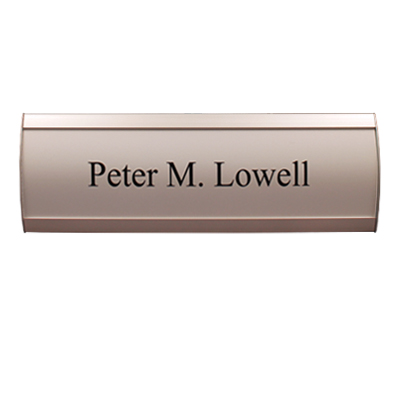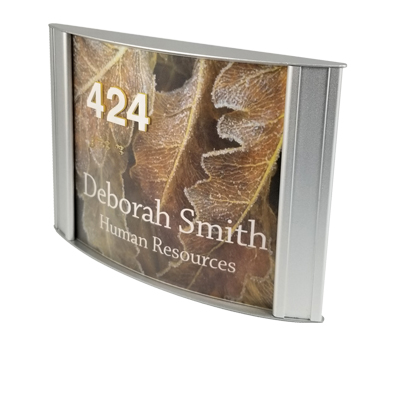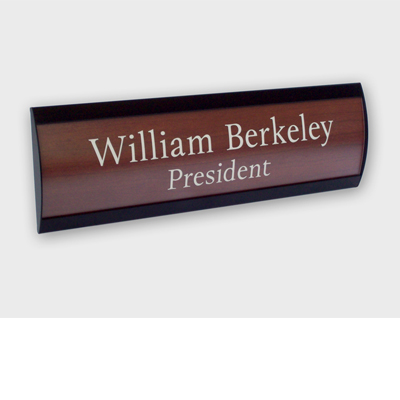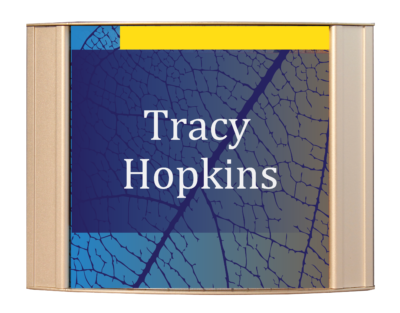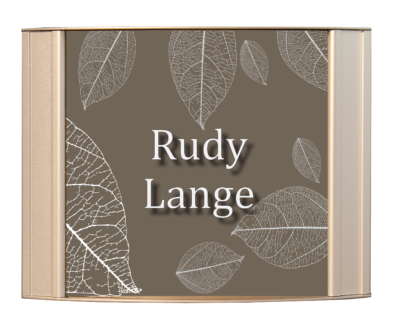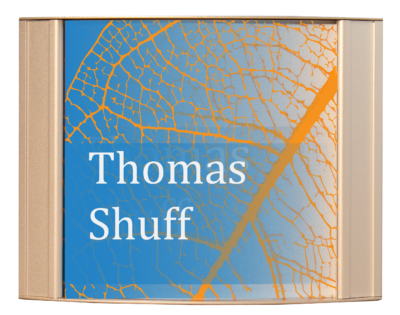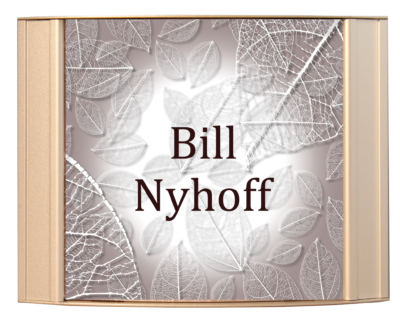 CUBICLE/WORKSTATION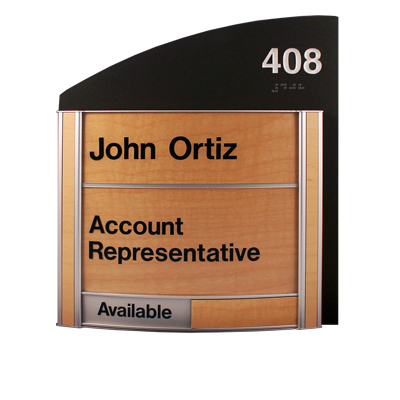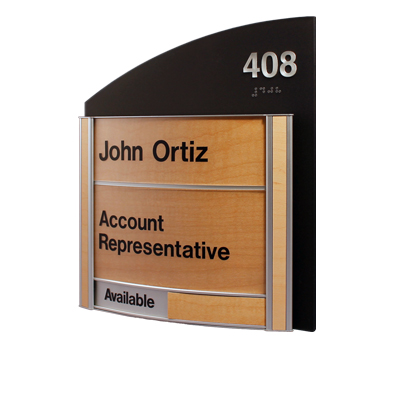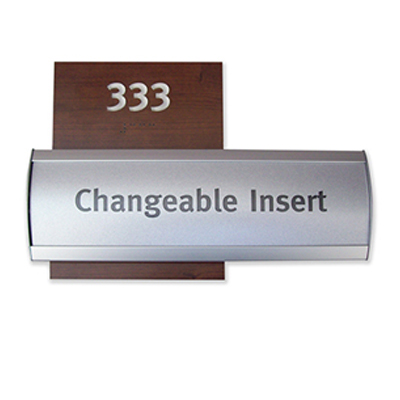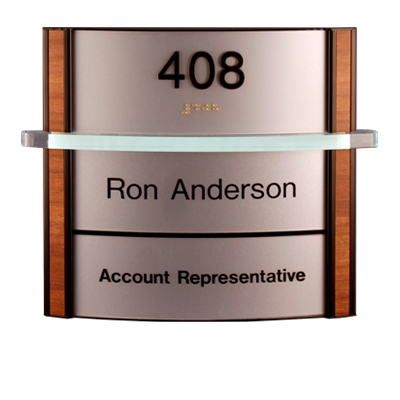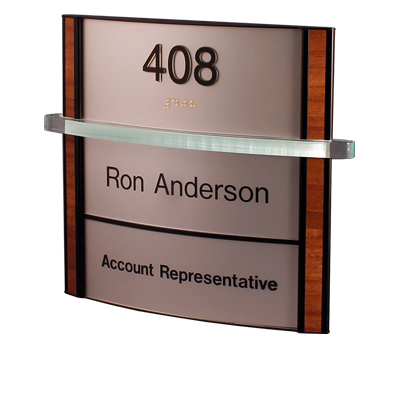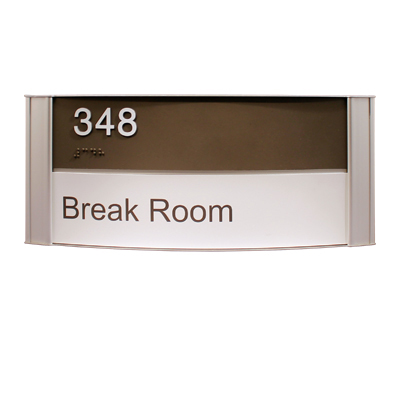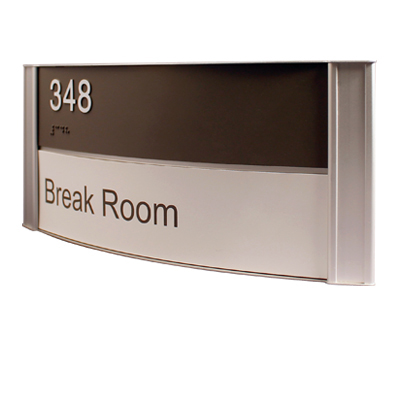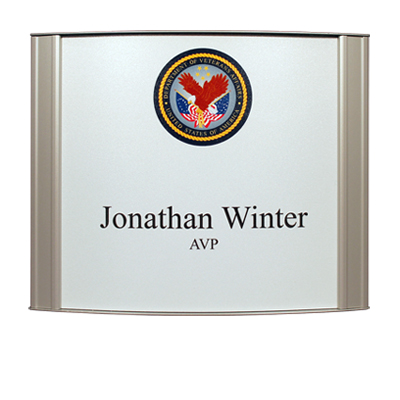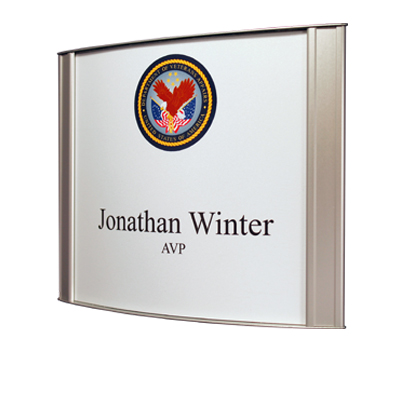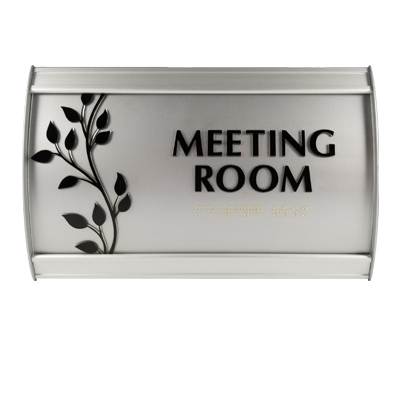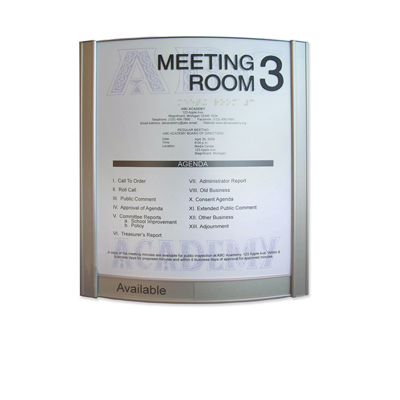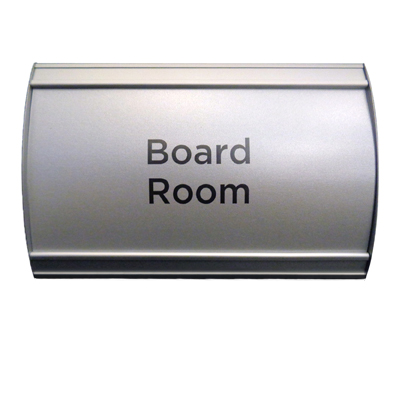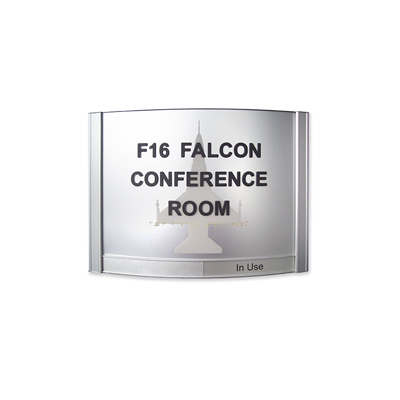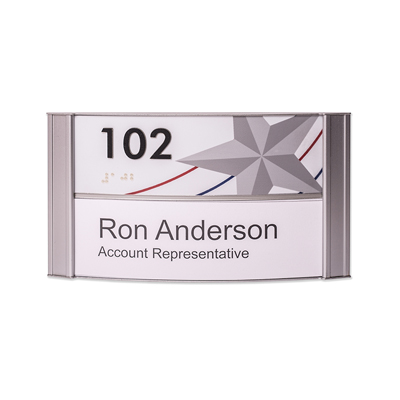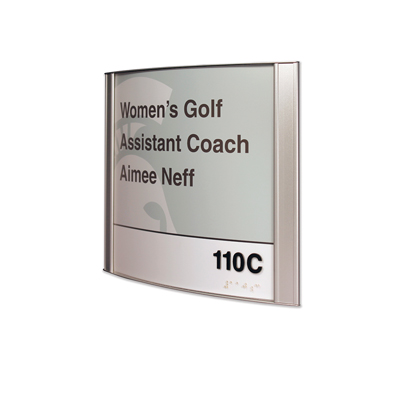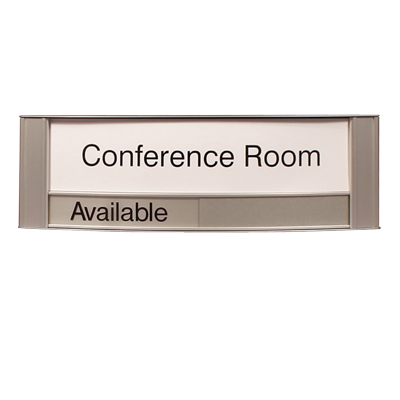 ROOM I.D.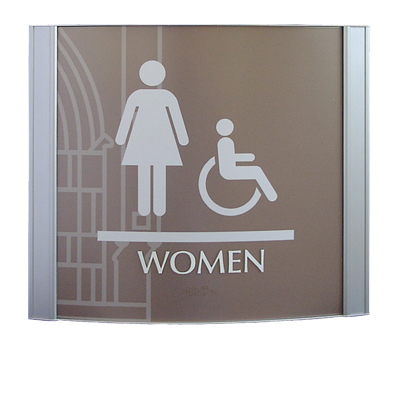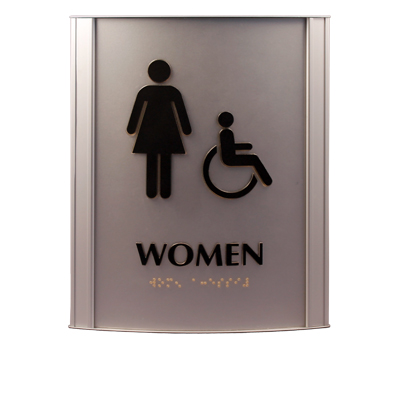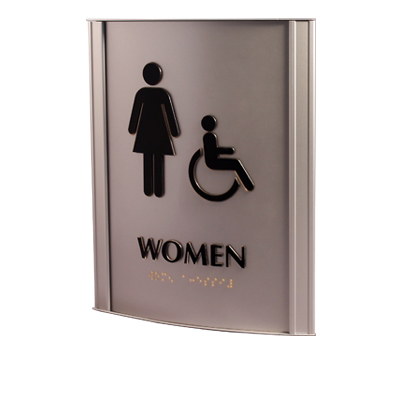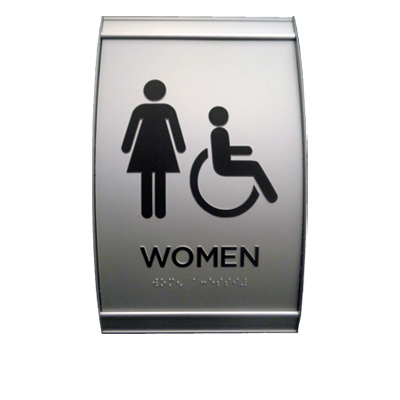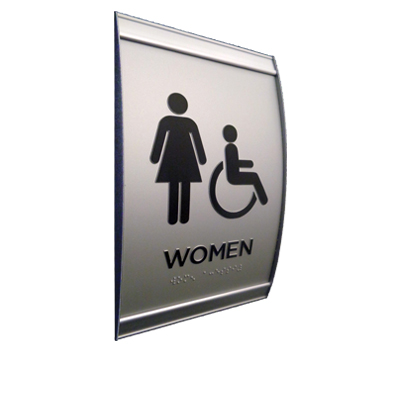 ADA REGULATORY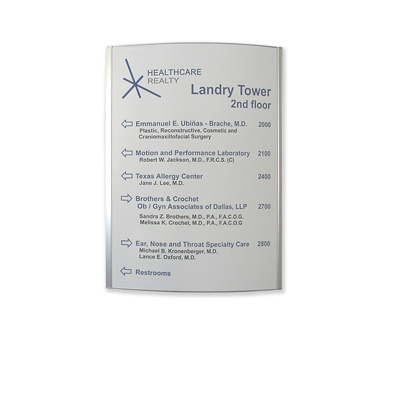 DIRECTORY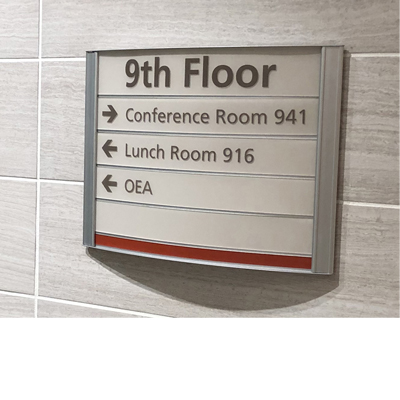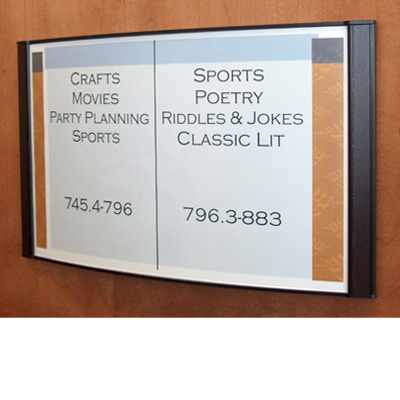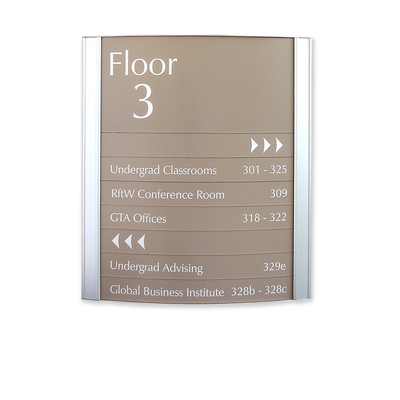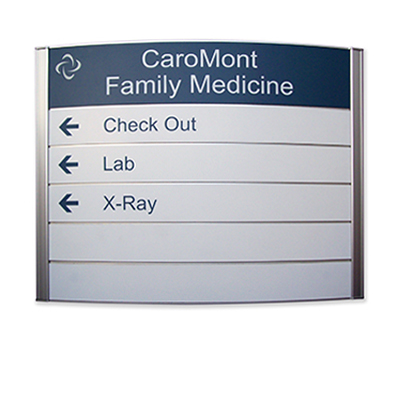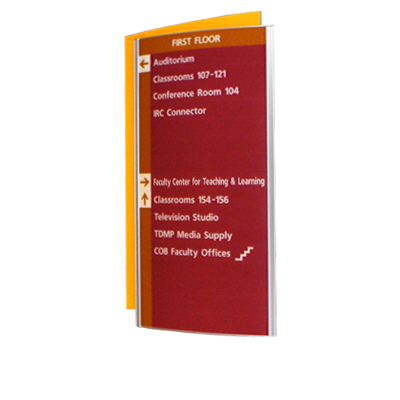 WAYFINDING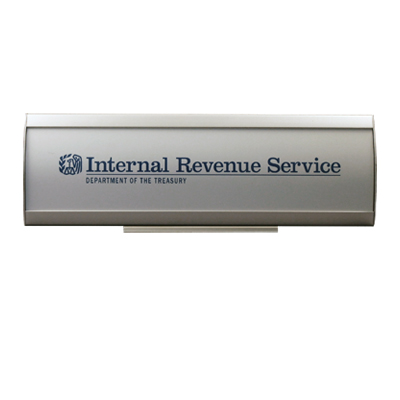 DESK/DISPLAY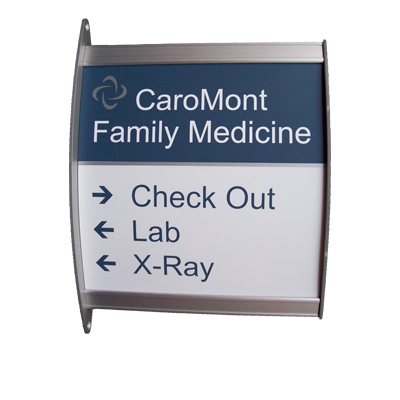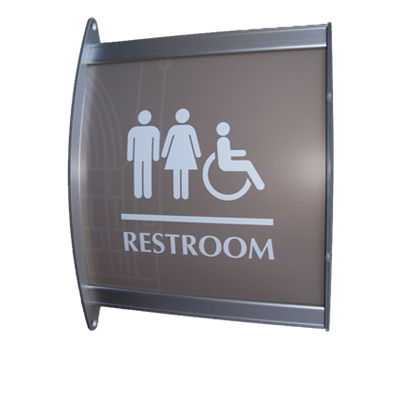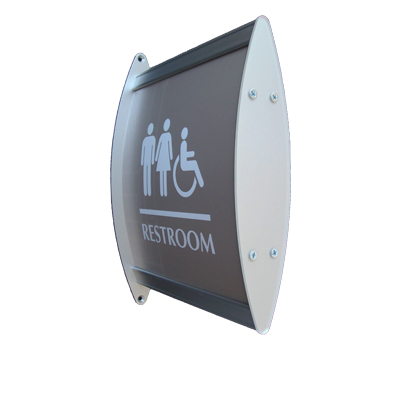 90° WALL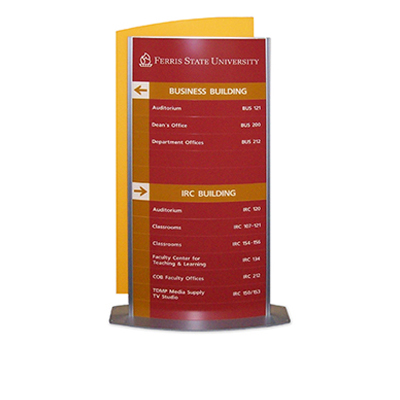 FREESTANDING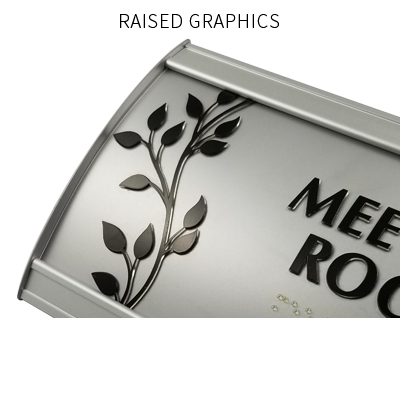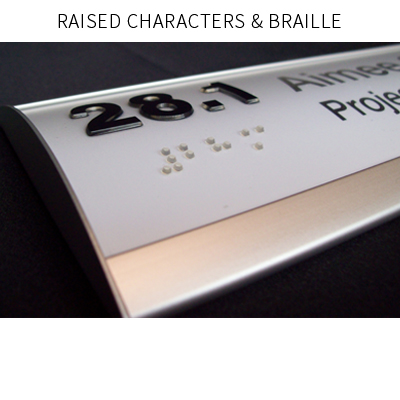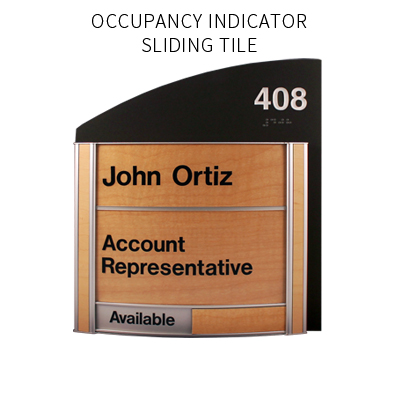 ACCESSORIES/OPTIONS
Also available in Ceiling Mount designs.
Sign Options
Colors and finishes as represented are approximate and should be used for reference only. Please contact your Appenx representative for acrylic samples prior to making final decisions.
x

Graphic Inserts

Thousands of photo/ graphic backgrounds to choose from (or your own photo/graphic) in a variety of themes, categorizes and subjects. High resolution, museum quality, image printed on thin plastic that won't fade or ripple over time like paper. Copy/lettering (names, titles, etc.) can be can be embedded into the image.

x

Mounting

Freestanding Double Sided

x

Sizes

Horizontal Orientation (window viewing size)
2 1/8"h x 24"w maximum
4"h x 60"w maximum
6"h x 60"w maximum
8"h x 60"w maximum
11"h x 60"w maximum

Vertical Orientation (window viewing size)
4"w x up to 8"h
6"w x up to 10"h
8"w x up to 20"h
11"w x up to 24"h
17"w x 18"h
17"w x 24"h
17"w x 30"h
17"w x 36"h
22"w x 18"h
22"w x 24"h
22"w x 30"h
22"w x 36"h

x

Laminate Finishes

Woodgrain & Stone Laminates

Metal Laminates

x

Metal Trim Finish

AL - Silver (etched & clear anodize)
BK - Black anodized
C2 - Combination-black end caps & silver metal trim

x

Background Finish

Matte Silver (standard finish)

Any Standard Appenx Laminate (see below)

Any Standard Appenx Color (see below)

Woodgrain & Stone Laminates

Metal Laminates

Colors

MA Brushed Aluminum Metallic

B4 Dark Champagne Metallic

CR Ledger Copper Metallic

x

Product Features

Features

| Product Application | Dot-Dash | Outsert Modular | Outsert Non Modular | X-site | Drop Lens |
| --- | --- | --- | --- | --- | --- |

| Product Application | Dot Dash | Outsert Modular | Outset Non-Modular | Xsite | Drop Lens |
| --- | --- | --- | --- | --- | --- |

| | | | | | |
| --- | --- | --- | --- | --- | --- |
| Directories | | | | | |
| Wayfinding | | | | | |
| Room ID | | | | | |
| Free Standing | | | | | |
| Ceiling Signs | | | | | |
| 90 Degree Wall | | | | | |
| Workstation/Office | | | | | |
| Desk/Display | | | | | |

| Product Features | Dot Dash | Outsert Modular | Outset Non-Modular | Xsite | Drop Lens |
| --- | --- | --- | --- | --- | --- |

| | | | | | |
| --- | --- | --- | --- | --- | --- |
| ADA Compliant | | | | | |
| ADA Compliant, tamper resistant | | | | | |
| Tactile tiles warrantied for the life of the facility | | | | | |
| Customer maintainable messages | | | | | |
| Paper bar option | | | | | |
| Horizontal accent strip option | | | | | |
| Vertical accent strip option | | | | | |
| Acrylic or laminate face surface | | | | | |
| Color on face surface | | | | | |
| Color on back surface (durability) | | | | | |
| Replaceable plaque/message tiles | | | | | |
| Designer header tiles | | | | | |
| System panel application | | | | | |
| Magnetic marker board tile options | | | | | |
| Photo image tile options | | | | | |
| Tackable tile option | | | | | |
| Removable side trim | | | | | |
| Decorative backer | | | | | |

| Mounting Options | Dot Dash | Outsert Modular | Outset Non-Modular | Xsite | Drop Lens |
| --- | --- | --- | --- | --- | --- |

| | | | | | |
| --- | --- | --- | --- | --- | --- |
| Hidden screw mount | | | | | |
| Adhesive tape mount | | | | | |
| Fabric pin mount | | | | | |
| Panel brackets | | | | | |
| Magnetic mount | | | | | |
| Velcro mount | | | | | |
| Ceiling mount | | | | | |
| 90 degree wall mount | | | | | |
| Desk/display mount | | | | | |